Last Updated Nov 30, 2023
img src="https://www.multipz.com/public/img/blog/how-impactful-is-software-development-with-artificial-intelligence.png" alt="how-impactful-is-software-development-with-artificial-intelligence" class="w-100">
How Impactful is Software Development with Artificial Intelligence
Artificial intelligence is a boon for marketing people especially in this digital era where the competition is beyond geography and time zones limit. 80% of tech leaders and businesses say AI helps to boost productivity. AI has marked its positive impact on almost all industries, especially in software development. Although it is not coding software on its own, but, helps in the development and testing process. Keep reading to know how AI can help in software development:
Predictions about Statistics:
AI can double economic growth rates in 12 developed countries by 2035;
Gartner predicts that 80% of emerging technologies will have an AI foundation by 2021;
By 2025, the Global artificial intelligence software market will reach around USD 126 billion.
What is Artificial Intelligence?
Artificial Intelligence is the process of designing, developing, deploying software in a faster, cheaper, and efficient way. AI-powered tools make the entire development quick, efficient and help to produce software quickly at a lower cost. A longer duration of software development generally leads to less income, and in some worst-case scenarios, it leads to loss of projects. AI helps to make work easy and understanding. In the coming years, AI tools will create USD 2.9 trillion in business value.
There is no second thought that AI is shaping the future of software development in the existing atmosphere. It is estimated that 80% of companies are investing and out of which 47% of companies are digitally mature who are defining AI strategies.
Impact of Artificial Intelligence in Software Development
● Requirement gathering
It is the stage in which human intervention is maximum but AI can lower it to minimum. AI offers a range of tools and techniques like Google Machine Learning Kit, Infosys NIA to minimize human efforts. It involves the Natural Processing Language (NLP) usage, a technological advancement where machines can understand user language.
● Software design
Every demand is unique in a way as it needs specialized learning and experience to get flawless results. But the truth is that it is one of the toughest tasks because the design tasks of each phase needs to be flawless. The digital design assistant understands the requirements of the client by studying similar past projects. It will combine different software designs in different patterns. With AI, you can automate certain processes to present the customized design.
● Automate code generation
Writing the idea into code is a huge task as it is a time-consuming and labor-intensive process especially when it involves big projects. Often developers write code before starting the development process which turns out to be a tiring and time-consuming process. In this situation, AI can help the developers to reduce the load to certain extents.
Just imagine you have to narrate your idea to natural processing language and the system will convert it into executable codes. It may sound like a sci-fi movie, but it is possible with AI.
● Testing services
Testing is an important aspect of software development. Every app or software has to go through the testing process to rectify errors or bugs. Since the process ensures the quality of the product but sometimes with any change in the code, the testing process needs to conduct tests of every component of the product. But now the testing process duration can be cut down with the help of certain AI tools to perform regression testing. It automates the testing process and ensures the software is bug and error-free.
● Deployment control
Deployment is the stage where the developer upgrades the software with the new versions and AI can help to boost the deployment efficiencies. In case of any error in up-gradation then chances that software might not be able to execute properly. AI helps to detect such issues and cut down the risk involved in the failure of the deployment.
Advantages of Using AI in Software Development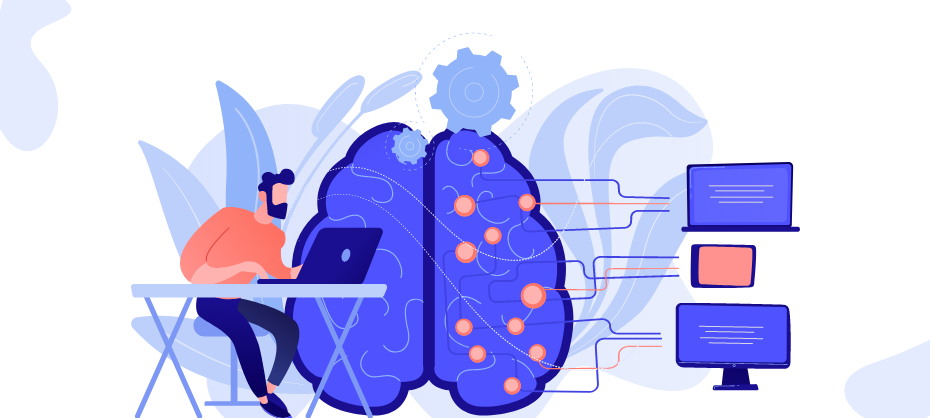 ● Improved accuracy
Error is a common thing for human beings, but an error can cost you a project or a huge business loss. Even the experienced tester is bound to commit mistakes while carrying out the tedious manual testing. But in the case of automated testing, it can be carried out for tons of time without getting bore or mistakes. When the machine is carrying out the repetitive testing, testers can invest their saved time from repetitive manual tests to create more efficient automated tests.
● Boost data security
With the rise of the digital age, there is also a rise in cybercrime. Since a large amount of data is transferred from different networks, which make it almost difficult for the cybercrime expert to track or monitor every activity. Due to this situation, cracks and threats go unnoticed, which cost a loss of money as well as valuable time, and to avoid it, machine learning is the perfect solution. It helps to strengthen data security.
● Quick prototype
Software development planning needs a lot of time and planning to facilitate the entire process smoothly. Artificial intelligence can save valuable time and facilitate the planning process with AI tools.
● Handle Errors
By integrating software development with the AI tool, developers do not have to struggle in examining files with bugs and errors. With it, you can easily & instantly find bugs and rectify them.
● Strategic decision-making
One of the toughest tasks for the software development team is the estimation of the different obstacles that will come up during the software development lifecycle. The AI tool studies the past projects and helps not to repeat the same mistakes in the current and future projects.
● Intelligent assistance
Developers spend most of their time reading documentation and debugging code. AI-enabled assistant assists developers with the development process by providing in-time documentation support and better code recommendation. This way, developers can save their valuable time, plus can complete the project within the given timeframe.
● Accurate predictions or estimation
The common problem in the software development field is that the development often overflows the pre-defined budget and timeline. To cope up with the situation, machine learning can help in the right estimation. It trains itself from the past projects, user stories, and other stories to predict budget and timeline.
Final Words
Multiple Artificial Intelligence tools are reducing the efforts of developers and they can make the best use of time in other areas. To be the game-changer, software development companies need to adopt AI in their daily process. Hire the software development Ahmedabad with AI capabilities to take your project to the next level.